The St. Mary's Faith Formation office is located on the second floor of the parish hall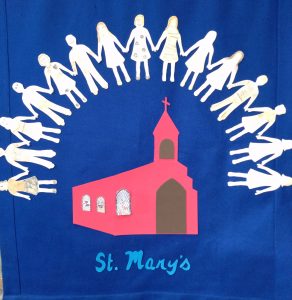 Office Hours:
Tuesday through Friday from 7:30am to 2:30 pm
Class Time:
Faith Formation grades K-10 meet weekly on Sundays
Pastor                                                  Faith Formation Administrator
Fr. Michael Cambi                             Chrissy Blanck         
607-547-2213 ext 101                           607-547-2213 ext 108                  
pastor@stmaryscoop.org                   FFStMarys.Cooperstown@rcda.org
The Faith Formation Program at St. Mary Our Lady of the Lake Catholic Church is open to all ages. We would like to expand the program to include adults who wish to share their faith. And we would also like to have an R.C.I.A. team to assist Fr. Michael in preparing to receive non-Catholics into full communion with the Church!
Catechesis is one part of Faith Formation; also vital are the lived experiences from celebrating the sacraments, and service to family, parish and community. By fostering an encounter with Jesus in the sacraments, we hope our youth will commit themselves to the mission and ministry of Jesus, by living their faith in the parish and the community at large.
The catechists at St. Mary's are dedicated individuals who volunteer their time to work with our youth.  They show their own commitment to our faith by teaching, guiding and inspiring our children on their journey of faith.
If you are interested in being a part of the spiritual development of our youth by becoming a catechist, a chaperone, or helper in our Faith Formation Programs, please contact the Faith Formation office at 607 547-2213 ext 108.
All volunteers will need to participate in Safe Environment Training and have a background check.