All classes will meet weekly on Sundays at St. Mary's from September through May. Information and updates on events throughout the faith formation year will be communicated to parents by their children's catechist and/or the Faith Formation office.
Catechetical Program – Christ in Us, by Sadlier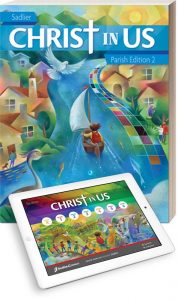 Christ in Us was developed with a best-practices approach to formation, education, and innovation, always with Christ at the heart. The program is built on the four pillars of the Catechism of the Catholic Church (creed, sacraments, morality, and prayer), rooted in Tradition and Scripture, and authored by the wisdom of the community. It uses a learning framework, Understanding by Design, that considers how young people develop an enduring understanding of their Catholic faith.