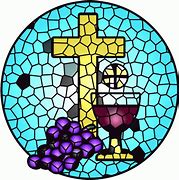 Grade 2
First Reconciliation – A Sacrament of Healing
First Holy Communion – A Sacrament of Initiation
1 second grade is an exciting year for our faith formation students and their parents. This is the year students will receive two of their sacraments, first reconciliation (penance, confession) and first holy communion. The second grade class will meet weekly on Sundays at St. Mary's from September through May. Parents should expect to be involved in the preparation of their children for these sacraments and should also ensure they are able to celebrate them regularly.
Information and updates will be communicated to the parents as they are available during this Faith Formation year.
Sacramental Prep Program – Dynamic Catholic, "Blessed"  

Blessed is a Dynamic Catholic experience designed to prepare young Catholics for the sacrament of reconciliation and holy communion. Every child deserves an unforgettable first Communion and first reconciliation experience. And that's what we will give them with Blessed.
In order to receive the sacraments of reconciliation and holy communion the child must be baptized, have at least one year of previous faith formation instruction and attend the first holy communion retreat with a parent/guardian.